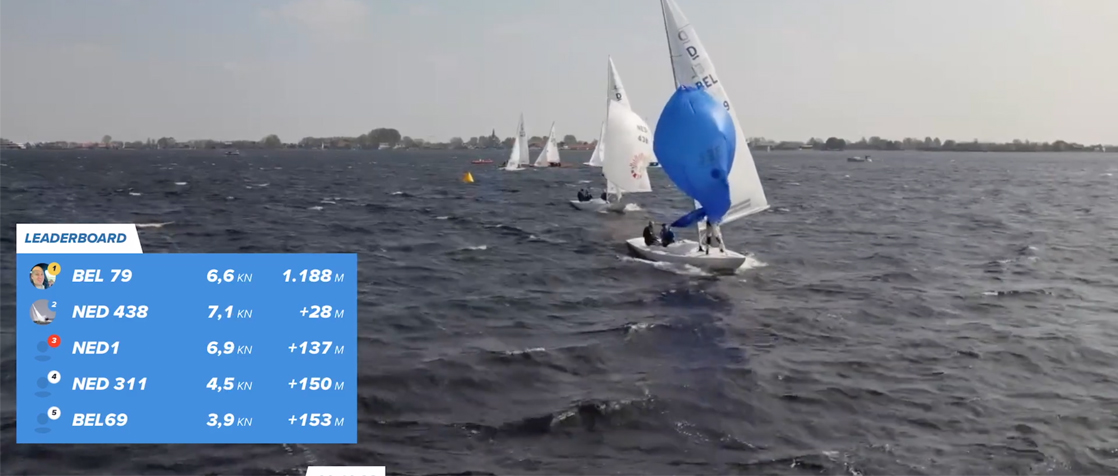 A NEW CHAPTER OF THE SAILMON APP: EVENTS
Full steam ahead! If the team behind the Sailmon App had a motto, this metaphorical statement would never seem so apt. Since its launch, last June, strategists, designers, developers and other specialists have been optimizing, improving and expanding the sailing app on a daily basis. With the recent introduction of Sailmon GOLD, including some impressive (new) features, a whole new chapter in this exciting story begins. We take stock, but above all, we are eagerly looking forward to what is to come with one of the team members, Kalle Coster - Chief Design Officer. ''If you think it couldn't get any cooler, we still have quite the trump card with Sailmon Events.''
It is early summer 2021 when the completely renewed Sailmon App sees the light. New look-and-feel, new experience and above all a lot of new features. A team of highly experienced and talented developers, who earned their stripes in Silicon Valley, are evolving the platform to a higher and more professional level. Once linked to a Sailmon product (MAX or Elements), it allows users to automatically log all activities on the water, then view, analyze more deeply and share it with the rest of the community. The goal of the app: maximize the sailing experience, make it more fun and challenging. And above all to improve your own sailing skills on the basis of data.
The new path taken has been successful. More and more sailors of all levels and from different classes worldwide are discovering the benefits of the app. Captains of the industry like Dylan Fletcher, Kyle Langford and Tom Slingsby enthusiastically share their trips. Kalle explains: "We have seen a huge increase in users over the past few months. And the average activity per user merges as well. Another nice detail: we currently have more users than we have sold instruments. And that is very cool to see. After all, this customer/user ratio shows that more and more fellow sailors, spectators, clubs, friends or family are interested in what is happening on the water."
And that's a small step to Sailmon Events. This new feature - expected in a few weeks - will lower the barrier to watching sailing races anywhere in the world. But more importantly: organizing those competitions becomes a 'walk in the park'. "Sailmon Events is basically intended for four groups: the organizers of sailing events, their participants, regular users and the rest of the community - i.e. the public. The bottom line is: we make sailing digital, entirely according to our mission and vision. We translate the sometimes difficult to follow spectacle on the water into a bite-sized and therefore easy-to-understand interface. Let me explain further."
Race Organisations
''It is becoming easier and cheaper for organizers of sailing events to organize and broadcast their own events. This new function basically has all the features to organize a sailing race: logging, rankings and (push) notifications. All participants, buoys and the starting ship will be provided with our tracking instruments (MAX mini or MAX). This allows the competition management, the participants themselves and the public to easily follow the competition via our app. And after every race, there is an automatic replay of the tracking (please see the video of the first test on the water below). You can add photos and videos as well!''
Sailing event participants
"Everyone who participates in an organized event has insight into his or her data. And that is not limited to who crosses the finish line first. The app gives participants insight into how they performed during the entire race. Who had the best performance? Who had the fastest top speed? And who sailed as the smartest in the fleet? Competitors will get answers to all these questions.''
Regular users
''You don't have to be part of a professionally organized sailing event to use this advanced feature. Sailmon Events allows you to go to the local lake with your friends and organize a race (or training) in just a few clicks. You just need to ping the start- and finish line. Afterwards, you can add buoys manually. Please note: only users of Sailmon instruments will eventually be able to participate and have access to the event."
Public
''With Sailmon Events, every race is accessible and easy to follow - anywhere in the world. We know better than anyone how difficult it is to follow the maze of boats on the water as it takes place. The app fully changes that thanks to its interface with instant rankings and Sailmon Stories.''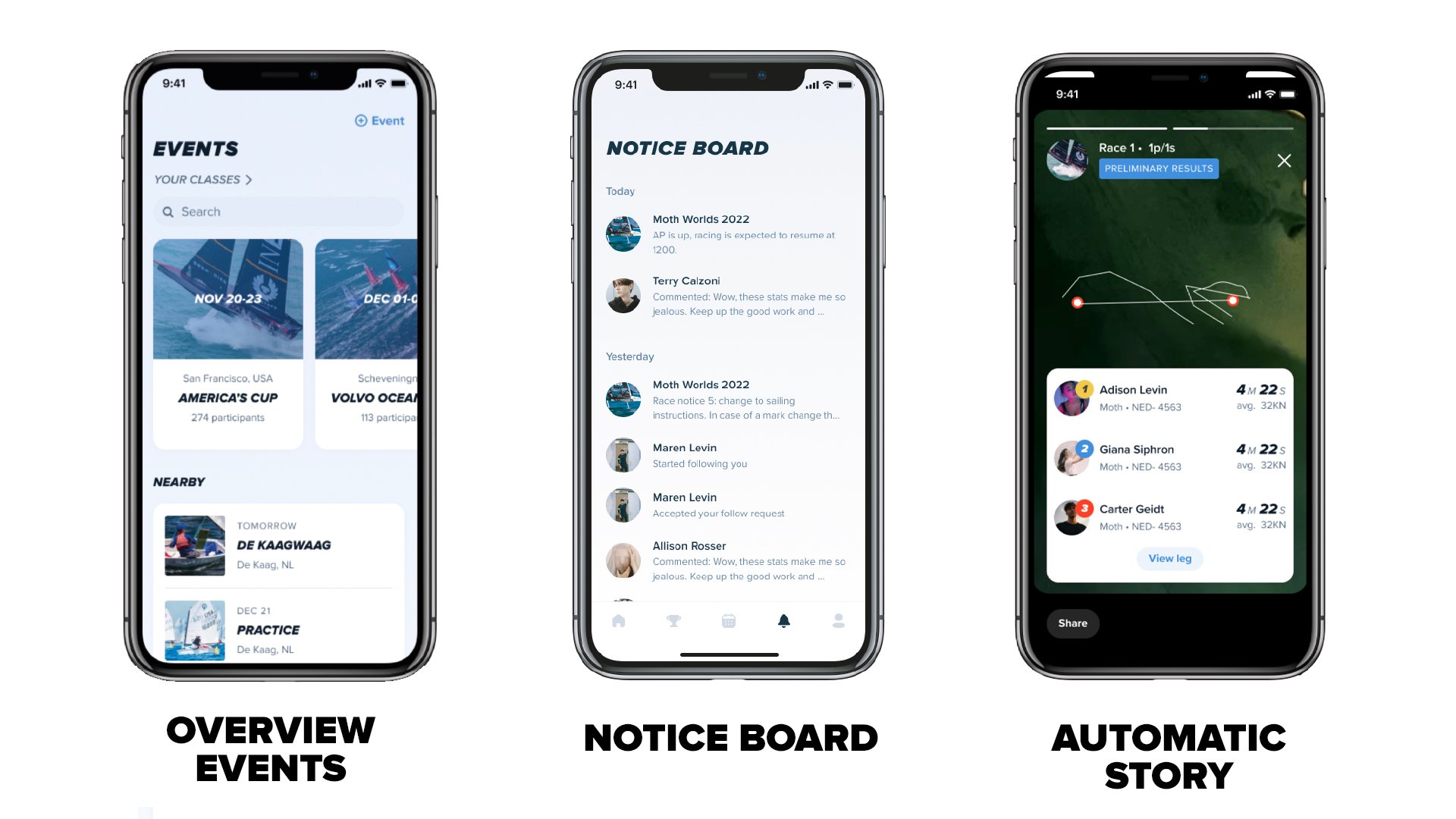 It's an understatement to say it's a pretty advanced platform. The team of developers is currently busy translating the challenging ideas from the drawing board into reality by means of complex numbers and codes. A few months ago, the first tests of the prototype were carried out during the iQFOIL European Finals. And with success. "It was quite exciting to put the basic elements of feature into practice. Of course, there were still some teething problems. It was also the first time that the app could be displayed on an iPad. But at the end of the day, it is important that we have gathered a lot of information to optimize the process. And it was fantastic to see iQFOIL fans all over the world witnessing our platform for the first time."
The first reactions to the new developments in the app are therefore purely positive. Several large organizations from the sailing community have already shown their interest in the new project. However, there are also some critical remarks. Why a paywall, for example? Kalle explains: "The true story is: we have already had to invest a lot to get to where we are now. Innovation is not for free. Every day a permanent team of developers is busy developing the app. To keep doing this we needed to introduce Sailmon GOLD. With this subscription, you not only give yourself access to unique features, but it is also an investment in the future of sailing. Only with a fixed and recurring investment can we continue what we're are doing: making sails less analogous. Above all, we think €9.99 per month (can differ per country) is reasonable if you look at the costs this sport entails. The ride to the lake, the storage and maintenance of your boat, participation in a competition, a coach or trainer… how much is €9.99 per month?"
Anyway: the new GOLD subscription, which includes some advanced features (such as up-and downwind performance, personal wind directions, shift tracking etc) and which Sailmon Events will be part of, will always be free for 7-days as a trial. ''And anyone who doesn't like to use Sailmon GOLD…'' Kalle explains in conclusion, ''with the free basic you still have access to a unique platform. We will continue to develop this part of the app as well (for both IOS and Android). Automatic logging, personal highlights, live sharing, CSV download, session reports, leaderboards and so on. It is and will remain all free."

---
The Sailmon App maximizes your sailing experience! Download the app and #SHAREYOURSTORY
Sign up for our newsletter