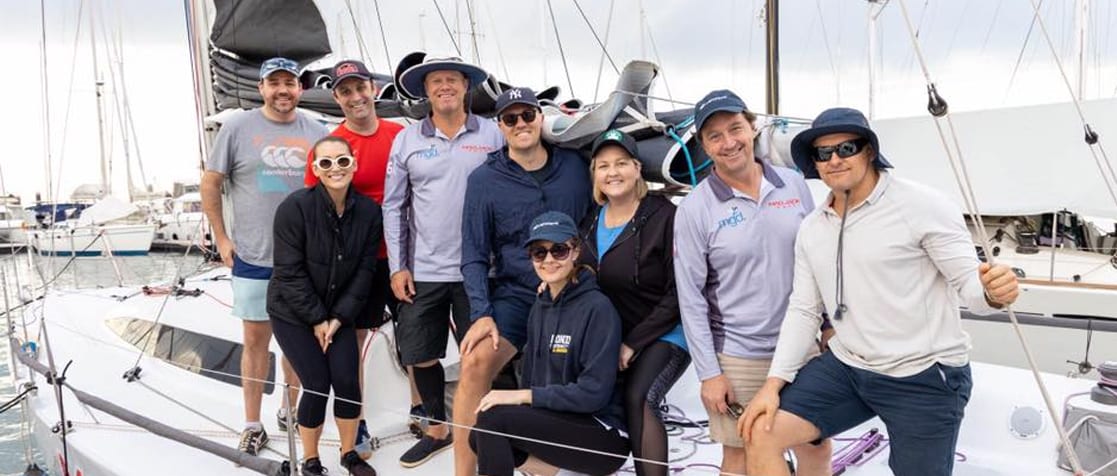 No worries. There's beer at the finish line.
Put a surgeon, senior management, software engineers, a financial adviser and a university student on a ROSS 1066. Limit the ambition of the crew to having an enjoyable racing experience, install a small oven onboard and place a well-deserved cold beer at the finish line. There you go: the typical beercan cruiser. There's no better embodiment of the term than the Mad Jack racing team. And where else can you find a more passionate group of sailors than in Australian waters? COVID-19 gave us the time to talk to this highly motivated team from Down Under about good old sailing fun and sailing technology onboard.
Big ask for a little boat
On the phone is the leading man behind the team: Greg Black. In a different setting than you would generally meet the 44-year-old. Australian in his spare time. Not in the local harbour, but in his quiet and peaceful backyard where he spends most of his time these days, working from home. An excellent opportunity to overthink and convey future ambitions. "Covid-19 has stopped a lot of racing. Our next race is the Noakes Sydney to Southport in early October, and after this, our big goal is to compete in the Moonen Sydney to Auckland race in 2021," says Greg. "Big ask for a little boat, but we know the boat is strong enough and with our core crew, plus a few experienced sailors joining us for the race, we know we can do it."
A refit
A clear dot on the horizon, but lots to do between now and then. Mad Jack, named after Greg's daughter Maddison and son Jackson, has had a long journey. "Mad Jack is a Ross 1066, modified by Naval Architect Kevin Dibley, with a name worthy of a second life. The first Mad Jack was a Young Rocket 780, it's fair to say we really do love NZ designed boats. When looking for the current yacht, we really wanted something that had a good hull shape, plenty of room downstairs for the family and something that we could modify to today's standards," says Greg. "As I didn't want to just buy anything, I caught up with Kevin in NZ, after reading about some of his other projects, and we started talking. It took a couple of years to find the right boat, and this one ticked all the boxes – great design, extremely well built (little tank), plenty of room and last but not least, a renovators delight. "
The boat hadn't had much love for a long time, so a complete refit was the next logical step. "The redesign brief was to make Mad Jack as fast as possible (downwind), not worry about ratings, basically create something fun to sail. Works included: new rudder and mast position, new chainplates, carbon rudder, mast, keel, fixed and retractable prodder, sail plan, deck layout to suit asymmetrical downwind plan, an icebox converted into a fridge for beers and most importantly, a small oven for baking pies!"
All the necessary changes were made to prepare Mad Jack for the big stuff. Next big challenge: the team. But not in the way you would expect. The outspoken offshore ambitions didn't result in a massive dismissal of less qualified sailors. Surprisingly enough, it was the opposite. "I love bringing people into the sport and will give anyone a go if they have the right attitude. I'm more concerned with attitude than skills, and although this does cost us time on the course, it makes the experience far more enjoyable. If I'm not having fun, I may as well give the sport up!" says Greg. For the sake of dynamism, the leading man had to say goodbye to some permanent faces on board, and welcome some new enthusiasts, including his son Jack, resulting in an exciting mix of sailors with a wide range of experience.
The skill level went down, but that didn't bother Greg at all. "There are far better sailors out of Royal Queensland Yacht Squadron and much better sailed boats, but I don't think you can find a more committed group of mates who look after each other and fortunately for me, look after the boat,'' says Greg. ''Everyone has an emotional attachment, and we work hard on that. We do take it seriously, but not at the expense of upsetting people or damaging the boat. No egos, just a group of mates who want to sail together and enjoy a beer at the end of the race."
''This led me to Sailmon''
All set? Not yet. The electronics onboard still caused some serious headache. "Electronics has always been something that frustrated me. I'm not wired that way, so I found the task of finding ways to update the existing Nexus instruments, quite daunting, " says Greg. "My biggest frustration was being told I needed to rip everything out and replace it with one system, rather than updating the parts. I wanted something that integrated with what we had. It felt like I was being sold something, rather than someone working with me on what I wanted to achieve. With this in mind, I went online and spent hours searching for possibilities and solutions. This led me to Sailmon."
Model E4 processor
The desire for an innovative onboard system soon became reality in the form of a Sailmon Model E4 processor, shipped from The Netherlands to Australia. But the dedication didn't stop there. "After the delivery, we've had two video conference calls in which they joined us on board to share their experience and opinion to make it all work for us the way we wanted it to. To be sitting on our boat in Brisbane, talking to Sailmon in the Netherlands through facetime was incredible and really shows the great lengths Sailmon has gone to in getting us up and running. Not sure others in the instrument business would offer the same service!" says Greg.
"We are using standard data, and Sailmon even helped set up the data to meet our exact demands. They also offered some great input for better functionalities. We are currently running with two IPads in the cabin. It's very easy to change the displays and our favorite feature is how the data reflects the leg we are sailing, so different data will show up for different legs," says Greg. "The system is really easy to use and we will ultimately be looking at placing Sailmon displays on the mast as the quality is even better than the ipad. It just takes time and I was more interested in updating the heart of the system and the Ipad is an interim solution in conjunction with our Nexus mast displays."
It has taken some time and effort, but Greg has ticked all the boxes to fulfil the perfect sailing picture he had in mind. A boat that's ready to challenge bigger ones on Australian offshore waters, an enthusiastic mixed team with a love for sailing and an instrument system that fits his needs. Once COVID-19 has passed, Mad Jack will surely be hitting the water again, reliving old times but better this time. And whether the team wins or loses, doesn't really matter to these typical beercan cruiser Aussies. Why worry when you have an oven onboard and ice-cold beers waiting at the finish line?
---
Our processors are in stock and worldwide shipping. Click here to learn more about our processors. Or do you want to speak to one of our sales agents to see how our processors can be integrated in your boat system?

- Fill in the form
- Call us: +31 6 11403729
- Email us: sales@sailmon.com
Sign up for our newsletter