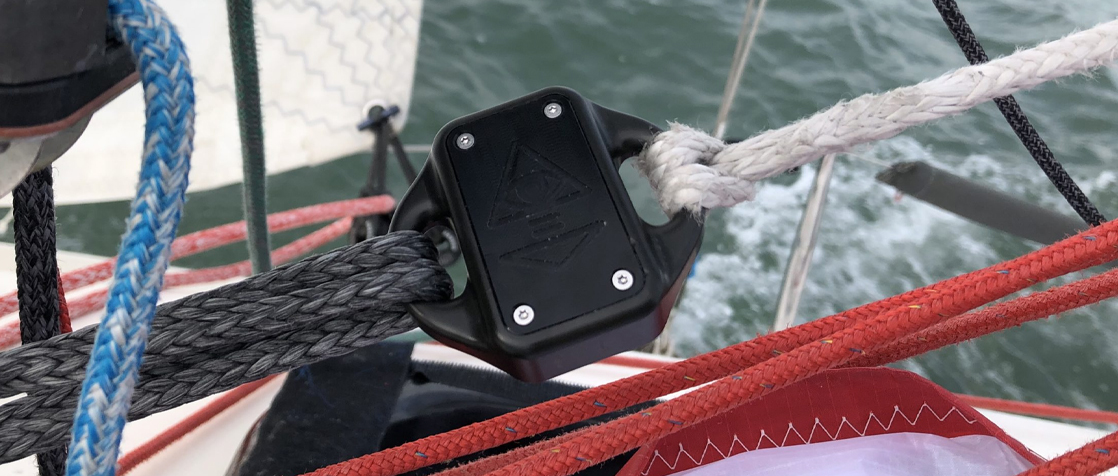 SAILMON MAX SHOWS CYCLOPS MARINE LOAD CELL DATA
Amsterdam, 18th November 2022 - Cyclops Marines load cell solutions are now available for Sailmon MAX. The innovative applications of the British maritime company are known as the smallest, lightest, strongest and most versatile load sensors on the market for any boat. With the load data on any running line, you can determine and repeat your fastest setting and preserve the integrity of the rigging. The data can be shown live on MAX and will be soon available in the Sailmon App as well.

"We're super delighted to get Cyclops Marines instruments involved! It is a great addition to the existing MAX data. With the load cell data, the MAX user gets an even more complete picture of his or her performances on the water. It challenges the curious and ambitious sailor to record every action with a line, analyse that data, learn from it and ultimately sail faster" - Kalle Coster and Kim Coster, Sailmon founders.

The load sensors of Cyclops Marine are developed in partnership with America's Cup team INEOS TEAM UK and are available in 5 sizes, with varying maximum working loads and suitable for use on vessels from superyachts to kiteboards. The sensors are easily added in-line on any 'soft' stay or sheet, from mainsheets to code sail tack lines, to backstays and runners.

"We feel a strong connection with Sailmon and its mission to enable sailors to improve their performances with data. It's fantastic to see them on the same page as us: bringing America's Cup technology to everyone. We saw that many of our users were already using the Sailmon MAX, so by joining forces we can serve the sailor even better." - Ian Howarth, CEO – Cyclops Marine Ltd

About Cyclops
Founded in 2018, Cyclops Marine brings together wireless load sensing and sailing expertise with the aim of being the industry standard in load sensing for marine applications.
In the past, load sensing was only available to race teams and super-yachts. Cyclops' sensors, however, are easy to install, can be used on any boat, and provide useful information that is easily understood by all – making America's Cup technology accessible to everyone.

Cyclops Marines foundations were laid at Cambridge University, home to some of the world's leading experts in load-sensing technology. Their team has grown to include more technical and commercial expertise and some high-level sailors.

--

The load cell solutions of Cyclops Marine are now available in the webshop of Sailmon with a 5% discount on a MAX package deal (until 31st December 2021)


Sign up for our newsletter