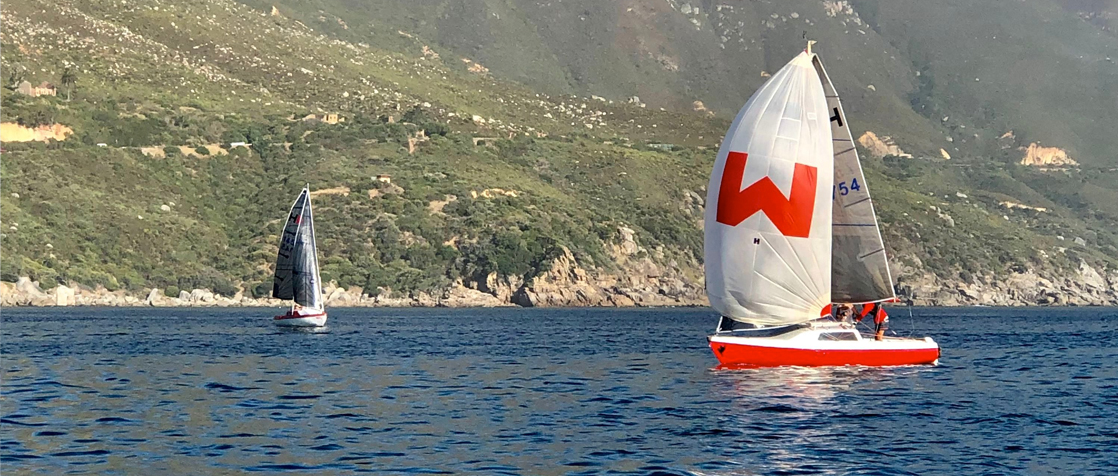 South African dealer organises Sailmon Cup
Suppose you want to organise a sailing regatta. What do you need? Preferably an iconic spot on warm water, a group of enthusiastic sailors, a committed organiser with a love for the sport and instruments to show the spectacle to the rest of the world. This is exactly what South African Dieter Meyner of The Finishing Hub had at his disposal. And voila, next Sunday, the Sailmon Cup starts on the waters of Cape Town. We couldn't contain our curiosity any longer and asked Dieter all about the event!

Hi Dieter! We're a bit unfamiliar with the South African sailing community. Can you give us an introduction?
Sailing has always been a popular spot in South Africa. We have an abundance of sailing clubs across the country, as well as huge inland dams and unique coastal locations for blue-water sailing. Several active classes race on a pretty regular basis, sometimes as often as three times per week

The most notable small keelboat fleet in South Africa is the Hunter 19, with racing taking place on Tuesdays, Thursdays and Saturdays in Hout Bay in Cape Town. The fleet currently consists of 37 boats, and the average turnout on the starting line during weekday races is anything between 12 to 19 boats, which is absolutely amazing to see.

Do you know that we have very famous sailors in South Africa? There are some very talented and decorated sailors who come from our side of the world. Here are a few names that you might recognise: Tony Norris (TP 52 Phoenix Helmsman), James Largier (TP 52 Phoenix Boat Captain), Joweal Claasen (SSL Gold Cup), Craig Millar (Clipper Round the World Race and previous Raymarine sailor of the year) and Luke Wagner (Multiple Provisional and National Champion across different fleets).

We have an abundance of talent here as well, with some really great sailors coming up through the ranks, including but not limited to Optimists, Lasers, Hunter 19s, and Stadt 23s.

It's an exciting time for one-design racing here in Cape Town, and I really hope that the growth continues.

You're organising a Sailmon Cup. That's amazing! What is it?
The Sailmon Cup will be Cape Town's first match racing series from April 2022 to November 2022, held one Sunday per month. We decided to create the series to bring like-minded sailors together and offer one-design racing in an exciting format.
The 2022 Series will be hosted by HBYC (Hout Bay Yacht Club). The boat of choice for the 2022 series is the Hunter 19, a two-person 19-foot keelboat with a symmetrical spinnaker, which makes for exciting and tricky racing. The response to the series was really good, and we had to close entries early! We have 12 teams that will be taking part in this year's series, with a mix of men, ladies, young and old.

Why are you using our instruments to organise this race?
We have decided to use the Sailmon range of instruments in this series. The reason for the choice is simple: it is by far the best instrument in its class. By using the MAX and MAX mini, we can have spectators watch how close the boats really are. Sailors can see where and when mistakes were made and utilise the Sailmon Cup Series as the perfect training platform.

The boats that will be used for the Sailmon Cup will be equipped with the Sailmon MAX, so the entire array of features is available to the crews on the boats. We will have mobile WiFi dongles (or smartphones) onboard and link these to the MAX that is on the boats that are racing. This will afford 'followers' on the Sailmon App to See LIVE TRACKING when racing is taking place.

Each month the top 3 teams will receive a small trophy or medal, and the grand prize for the 2022 series finale winner will be a SAILMON MAX unit.

It's an exciting time, and we look forward to growing the series to other yacht clubs and classes in the future. We are very thankful for all the help we have received from our sponsors in setting this up.

----

More information:

Sailmon Cup
Phone: 084 415 9627
E-mail: race@sailmoncup.co.za
Website: Sailmoncup.com

Sailmon SA
Address: 7th St, Kensington, Cape Town, 7405, South Africa
Phone: +27 21 300 0866
Website: sailmoncup.com


Sign up for our newsletter