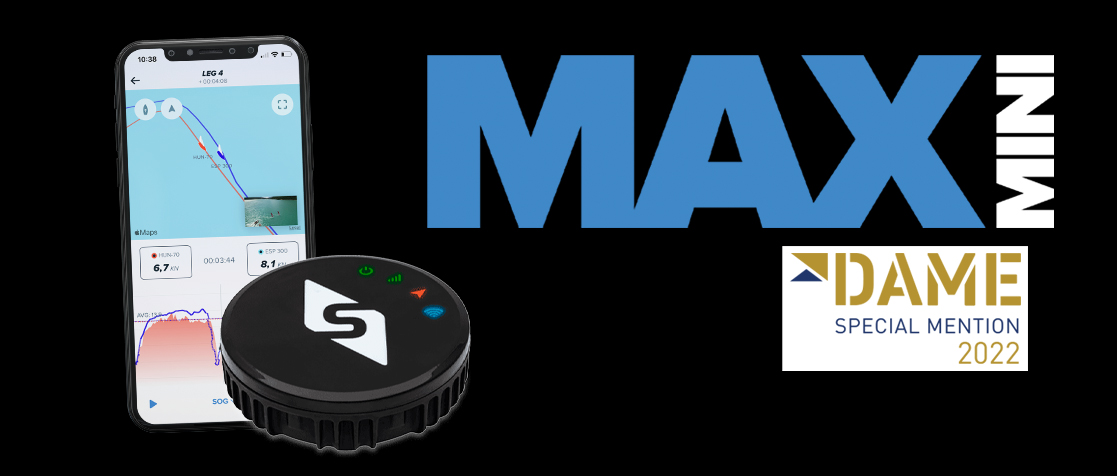 By Sailmon
17 November 2022
SPECIAL MENTION FOR MAX MINI AT DAME AWARDS
Sailmon's newest innovation, the MAX mini, has been awarded with a special mention at the DAME Design Award 2022. The jury was impressed by the portable tracker: ''Beautifully designed, very portable sailing performance tracker with a price point making it accessible to many sailors and an operation that should take the hard work out of analysis. It floats too if you are unfortunate enough to drop it over the side.''

CEO Kim Coster is delighted about the news: ''We see this special mention as a prize. We're very proud of the team. Their passion for technology, love for watersports and hard work resulted in this unique innovation. And I'm pleased it's not gone unnoticed by the experts in the market. We like to thank Andre Hoek and the rest of the jury for the warm words. It encourages us to keep fulfilling our mission to make sailing and other water sports more fun and challenging - for current and future generations!''

MAX mini
MAX mini is a portable, light-weight, and highly accurate tracker that automatically sends all performances onthe water to the Sailmon App - live or afterwards (thanks to integrated LTE-M internet connectivity). Users can relive and analyse their trips based on a graph/map, data and even imported videos. From now on, the debriefing will be accessible, affordable and understandable for everyone.

DAME Design Awards
The DAME Design Awards was launched in 1991 to promote design in all disciplines and to recognise the best-designed products at the METSTRADE Show. Its unique relevance in the global marine marketplace has grown in parallel with the explosion in awareness of design in the world around us, from cars and architecture to fashion and consumer goods. In making its judgements the jury seeks to emphasise the importance of design for all marine products, from function to aesthetics and from packaging to the end product.

The DAME jury also considers the expected impact on the marine industry of entries, their suitability for intended purpose, the level of innovation, cost, ease of use or installation and environmental impact. Up to seven Category Winners and the Overall Winner will be chosen from the nominated entries. Products that the Jury considers to be exceptional, but which do not win the award in their category, will be given a Special Mention."

---

The MAX mini is ready to order. Visit sailmon.com/max-mini for more information. Are you, as a sailing organization, interested in tracking/broadcasting? Send an email to sales@sailmon.com.
---
Sign up for our newsletter