The story of the Sailmon App: a thriller with a happy ending
Share your story. The new slogan of the recently redeveloped Sailmon App is inextricably linked to Sailmon's cherished mission: making sailing visible based on data. Users are encouraged to share stories in the form of unique sailing achievements that would otherwise fall into oblivion. But what's the story behind the Sailmon App itself? We asked app developer Kalle Coster, who worked intensively on the project with his team for years. Serious disclaimer: it is by no means a mushy fairy tale.

The history of the Sailmon App is long. Can you take us back to the beginning and tell us more about the origin of the app? How did you come up with the original idea?
With Sailmon we have always strived to turn sailing into facts. I cite the example of the well-known bar talk after every sailing race. As an avid sailor, I always heard from my direct competitors how well they had performed that day. And as the beer flowed, stories and thus achievements were considerably exaggerated. But no one could really say whether or not they were true. After all, there was no data available to prove anything. To be fair... I was guilty as well.

We thought there must be another way. That's why we've always been tracking performances on the water. The big stories at the bar should be a thing of the past. Recorded data would be the new standard in sailing! We wanted accurate data you could trust to share with friends or competitors and also to gain insights into how you are performing. We are convinced that data can help you become a better sailor, but only if that data is presented in a user-friendly way. With that in mind, we started this project five years ago. It was an intensive adventure with a lot of trial and error. The Sailmon App as it stands now has many predecessors and prototypes.

As you point out, the app has changed a lot over the years. What influenced this?
The most challenging thing about this project was that the Sailmon App is completely new in our community. Of course, we are familiar with similar tracking apps used in cycling or running, such as Strava or Runkeeper, but translating and applying this to sailing requires answers to other questions. It's challenging but also insanely cool! At the start of developing, we were limited to a smaller budget, so we had to do it with a relatively small team.

But the community was a huge help to us. We listened to every sailor, like always. We would never be where we are today without the feedback from users.

It is less visible to the customer, but there is always a lot of tinkering under the hood. The first version of the Sailmon app, 'Sailmon Logs', was a web app which, as the name implies, is a software solution that runs on a web browser. This offers many advantages (e.g., cost savings), but at the same time it also created challenges (e.g., fewer options). In any case, it was a good step towards providing our users of the Elements displays and processors (ed. MAX was introduced later) with recorded data. Data was automatically uploaded to the server after each trip and was accessible via a computer in a user-friendly way.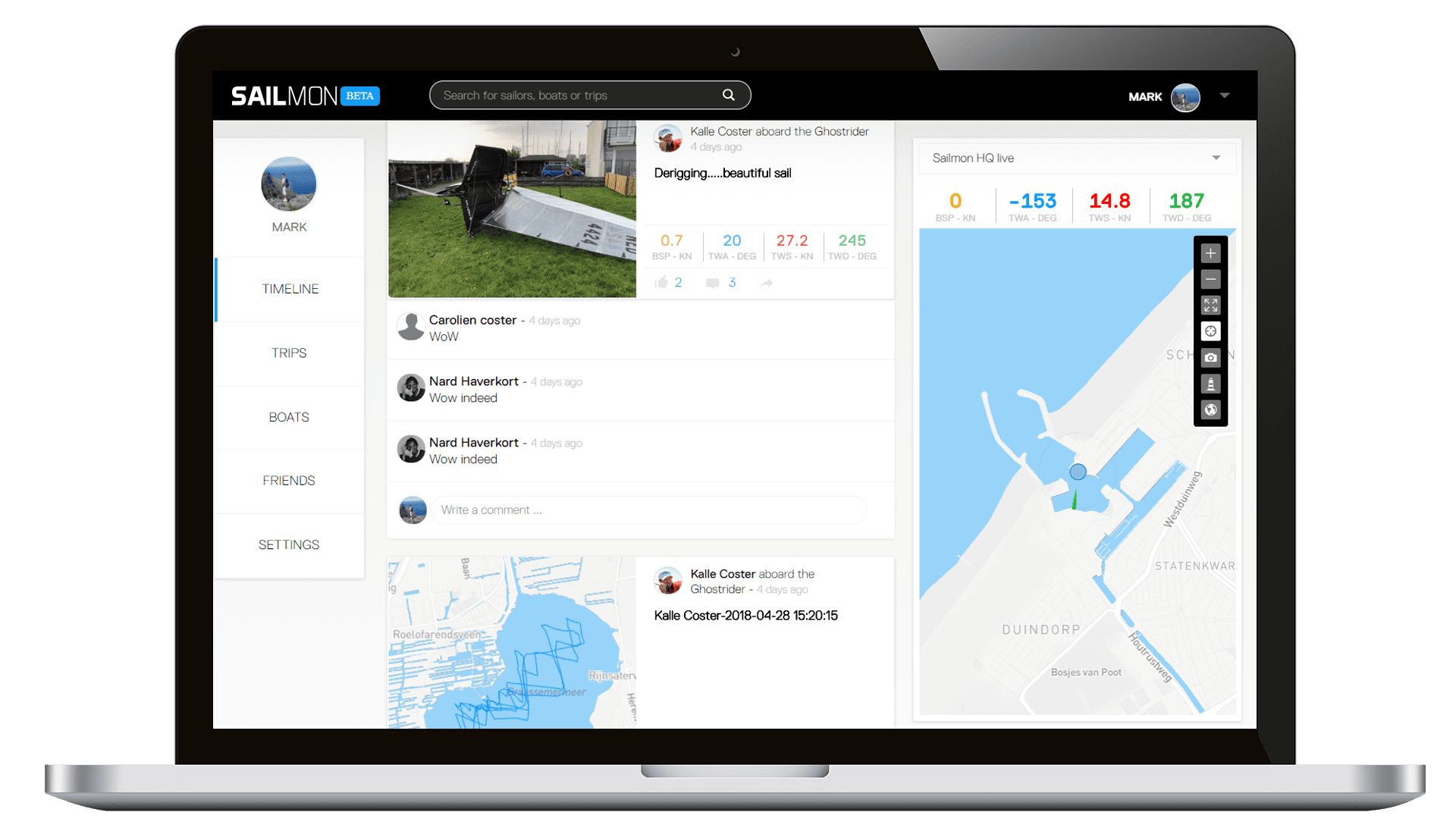 (The first BETA-version of the Sailmon App: 'Sailmon Logs)
We've tried to extend that concept to a mobile app – without the need for a processor. We managed to get the phone to function as a mini-processor. From that moment on, data was available to every sailor, even younger sailors and those with a smaller budget. Anyone who took their phone on the water could view their performance during and after each trip. And it was already possible to share it with the rest of the community. That innovation actually gets right to the original idea that inspired us to create the app in the first place. We want to make our fantastic sport more fun and more challenging. It's not only for the professionals who have competed in the Olympics, but also for the young dinghy sailors who have just started sailing their first nautical miles. This is also the reason that we have always offered our software to the community for free.

Though the number of app users increased every week, we found that using a phone on the water had drawbacks. First of all, the GPS was not always reliable. Moreover, using a phone on the water posed challenges: it always had to be transported in a waterproof case, wet fingers were a major obstacle and sharing your location consumes energy – which meant the phone's battery would be dead at the end of the day. In addition, the skills of our developers were put to the test. The app (at the time available for both Android and OIS, i.e., two different platforms) had some problems over time, which is obviously frustrating for users, but of course also for us as a team. Many people underestimate how incredibly challenging developing an app is. I can tell you that it has given us many sleepless nights. I know every inch of my ceiling by now.

Therefore, we continued to tinker with and improve the 'E4 Mobile'. In the meantime, however, we also went back to the drawing board to think about a more sustainable application for the Sailmon App. This ultimately resulted in our most recent innovation: MAX. This standalone and affordable device has the best sensors on the market to generate more reliable data than a phone, and (just as important) it is easy to use on the water. MAX is waterproof, allows for easy navigation between functionalities and has a battery that lasts for more than a day. Together with our existing processors for larger boats, we could now reach the entire fleet with the Sailmon App, without losing control over the reliability of the data.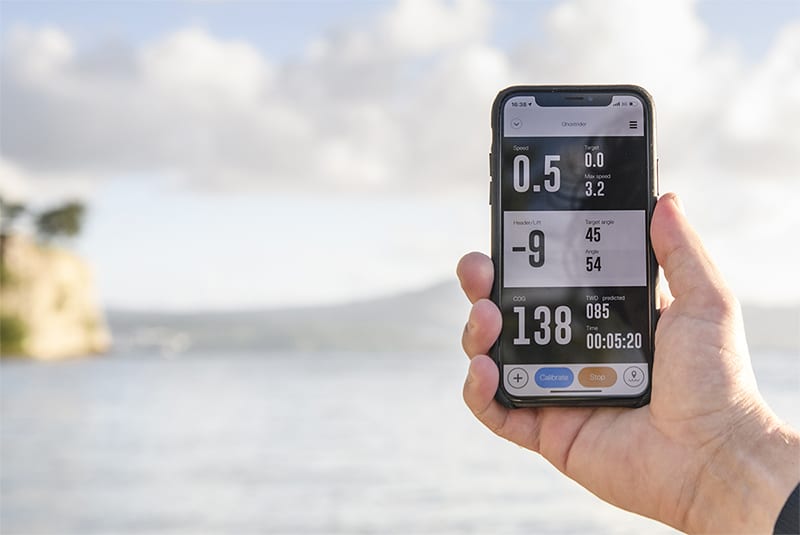 (Photo of an older version of the Sailmon App)
The arrival of MAX meant bidding a final farewell to the prototypes such as Sailmon Logs and the E4 Mobile. We realized that the path we had taken was the right one, so we decided to focus all our efforts on this. We enlisted the help of very talented and experienced app developers who were seasoned Silicon Valley professionals. This allowed us to fulfil a long-held wish, namely to build a 'native app'. This is an app that has been built from the ground up in its own code language for Android (Java) and iOS (Swift). This step significantly improved the functioning of the app.

In addition, we were finally able to build the interface we had always dreamed of. After all these years, we knew which functions a sailor on the water prefers to have. And we had learned how users were navigating through menus in prototype apps, thanks to analytical data. Sounds familiar right? We were improving our skills based on data! All the instructive views, positive and negative feedback from the community, data analysis and help from third parties have resulted in the current Sailmon App. The result is astonishing, if you ask me.

The new look & feel and all the innovative functionalities are indeed impressive. Can you tell us more about that?
You can best divide the app into three elements: tracking, performing/learning/improving and leaderboard. The tracking has everything to do with the fact that the app stores all the data that your MAX generates while sailing. All you have to do is link the MAX to a personal account in the app. From then on, all your sailing trips are automatically sent to the cloud as soon as you get off the water. Every nautical mile goes down in the history books.

The second element is best combined in the framework of performing, learning and improving. As indicated earlier, we at Sailmon are convinced that you can improve your sailing performance on the basis of data, but only if that data is presented in an attractive way! No dry numbers or clear graphs that require you to have studied higher mathematics to decipher them. Instead, there is a map with a chart that you can playfully and easily scroll through. Analyzing should be fun! So, we've made it possible to relive every sailing trip down to the second (or in fully automated separate legs) and see how you performed on speed, heel, pitch and COG. Where was your sailing awesome? Where do you need to improve? The app also tells you in simple percentages how you have performed upwind and downwind. Are you not sure about your results? Compare your performance (live or later on) with that of other sailors who are sailing at the same time and location. The app always challenges you to review your performances, so you continue the tactics that made you sail faster or avoid making the same mistakes next time. The ultimate goal is to win matches. And that brings me to the last element: the leaderboard.

After a day of sailing, the app generates your personal highlights, such as top speed, best upwind performance and fastest 500M. Those results are compared with all the other sailors at a location that day. And your best results overall are ultimately also tracked in the leaderboard, categorized by highlight, class and period. Remember the bar stories I mentioned at the beginning of the interview? This is the final element. The proof is in your pocket.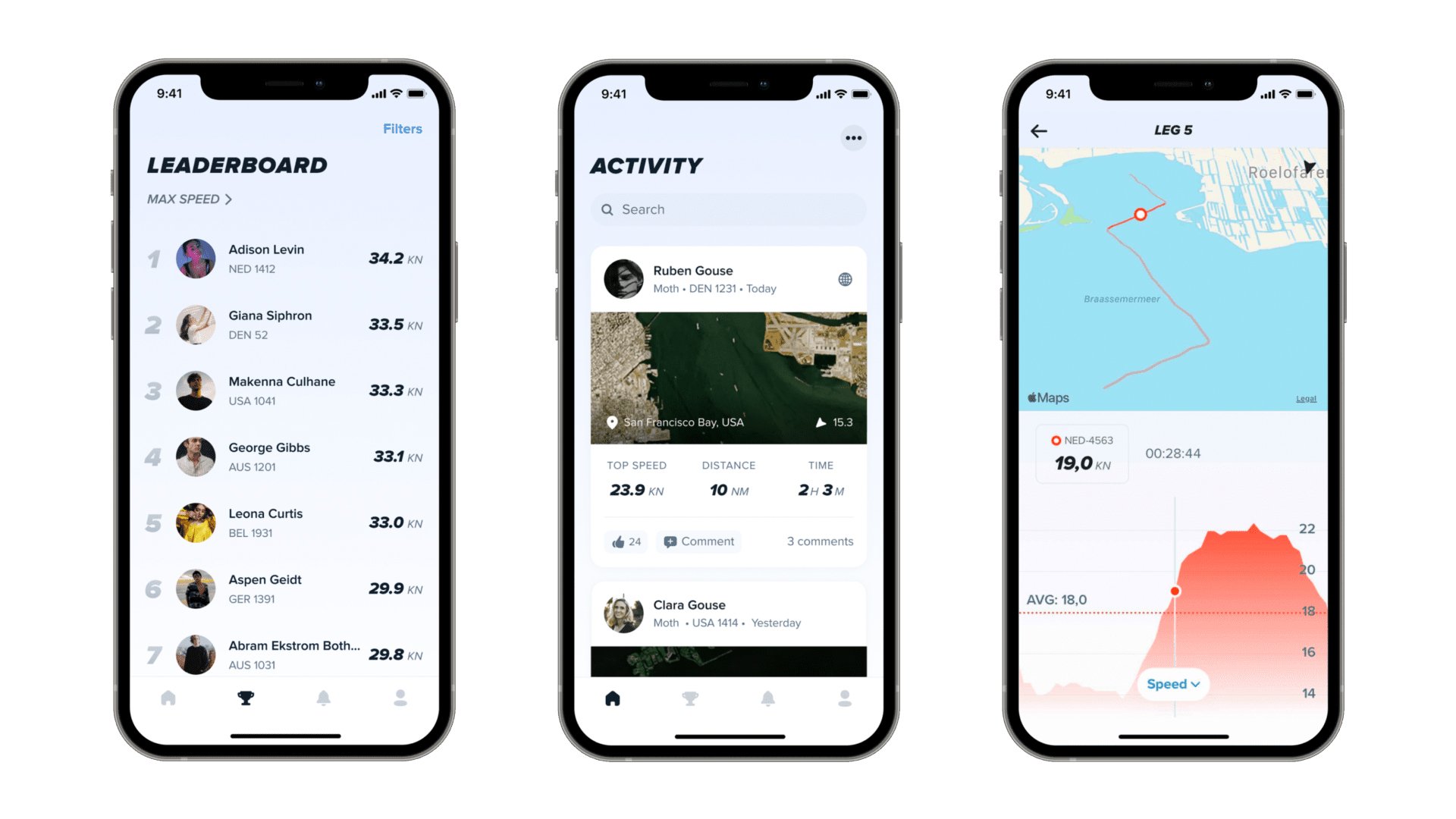 (Screenshots of the new Sailmon App)
It sounds like the Sailmon App is completely finished. Does it feel that way?
NO! Write that down in capital letters, please. We are competitive sailors by nature and always want better, faster, and more. Ambitious as we are, we naturally want the same for the Sailmon App. Without exaggerating, it feels like our baby. To continue with the metaphor: we also take care of it every day. Every day a team of developers is working to improve the MAX and the accompanying Sailmon App. Obviously, to remove any teething problems, but also to add new features. We still have so many ideas about how we can attractively present data. How about easily applicable data overlay on photos and videos?

We are also currently working on making the Sailmon App function on larger screens. And we are testing live event registrations. With this, we offer assistance to race committees, schools and other organizations to 'broadcast' sailing competitions to the general public (and in great detail) online. I don't want to go into too much detail, but I can promise that there is still a lot more to come for app users. That also makes the MAX a future-proof product. We respond well to the changing needs of the community.

Let's look at this project in an overall review. I can imagine it was an intensive process. How do you look back on the journey and ultimately the result?
It was intense. Tiring? Oh, yes! I would not recommend developing an app on two platforms for anyone who can't handle stress or headaches. And there have been plenty of times when I thought, "What the hell are we getting into?" But no matter how big the setbacks or challenges, we as a team have always stood our ground and carried on with the mission we had in mind. Anyone who thinks that innovation is a walk in the park is absolutely wrong. It's a bumpy road. Fortunately, coping with changing conditions is in our blood, so we have always adapted. And we will continue to do so as a company.

And look where we are now! Two unique products in the sailing world. Every time a MAX is sold, or someone adds a trip to the Sailmon App, it makes me so proud. It is a reward after our really hard work. The thousands of hours we've put into this project are starting to pay off. And then to realize that we are only at the beginning of so many beautiful new developments that lie ahead. That certainly makes the story of the Sailmon App a thriller but one with a happy ending.
The android version of the Sailmon App will be launched next week.
Sign up for our newsletter