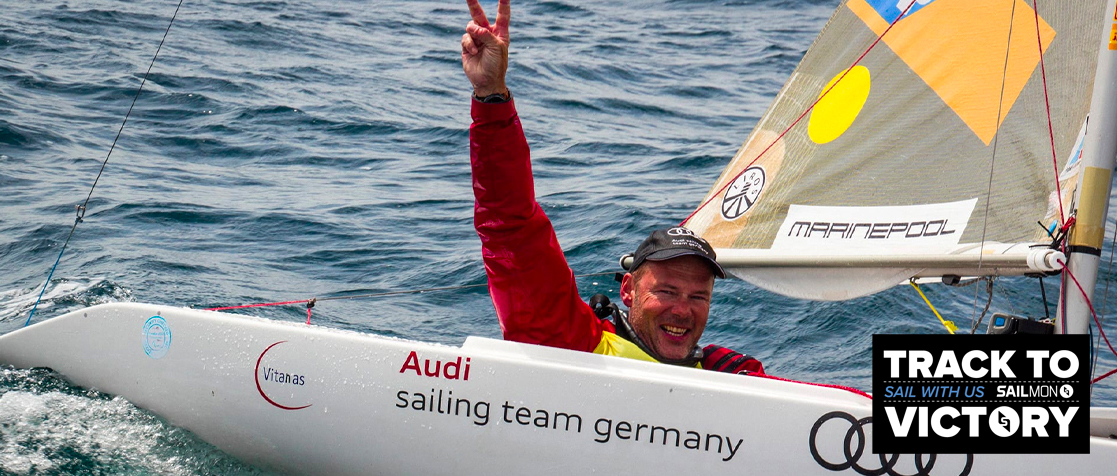 TRACK TO VICTORY: HEIKO KROGER
"Build up that optimist for Heiko." It's been over 40 years, but Heiko Kröger can still remember the moment he started sailing like it was yesterday. The rest is history. Gold at the Sydney Paralympics in 2000, Silver at the London Games in 2012 and 9 world championships. Unprecedented successes for the man from Waldbröl. And all thanks to a fanatical group of sailing friends, the firm hand of a DDR coach and the ability to listen to the right people.

This success story begins on a small lake about 70 kilometres east of Cologne, Germany. Heiko, around the age of 7 at that time, was introduced to the sport to which he would later commit his entire life to. "At the beginning of the trip, I was sailing together with the neighbours' son. But after half an hour I was on my own. I can still see myself floating around in the harbour with a wooden Optimist.''
Although uncomfortable at first, Heiko soon got the hang of it. The young German sailed in his Optimist for five years, until he became too tall. "My dad decided at the age of 13 to get me a Laser. An orange one, without any instruments onboard, not even a radio. It was tough. I capsized every six meters. But no matter how many times I capsized, I kept trying," says Heiko. The motivation to keep on going was inspired by the presence of other successful young sailors belonging to the relatively small club. "I saw how they competed for medals at (inter) national events. At that point I knew for sure: I also want a medal. I also want to become a world champion.''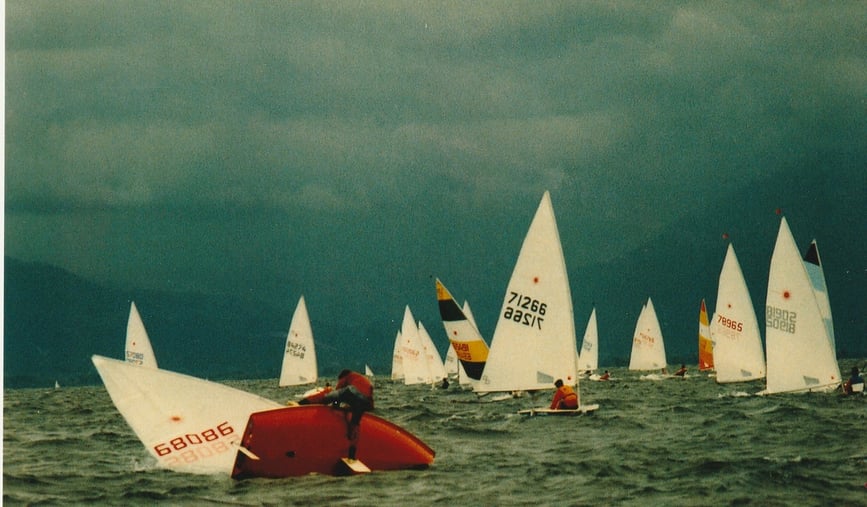 (PHOTO: ''I capsized every six meters'')
The goal was crystal clear, the means uncertain. Although the German sailing federation recognized the Laser class, it did not want to provide support in any way - not even financially. Determined, Heiko took matters into his own hands. "With a group of friends we selected regattas nearby for practice purposes. Everything within driving distance, because petrol was still relatively cheap at the time and we couldn't afford plane tickets. We didn't have a coach or internet, so we had to find other ways to improve our sailing skills. We mainly learned from each other and other professional teams like the British. And for the rest, it was just sailing, sailing and more sailing."

While his peers went on summer vacation together, Heiko mainly focused on sailing. "My friends thought I was crazy. They didn't understand that I didn't feel like going with them: getting drunk every day, sleeping on the beach. I preferred to spend time on the water. I felt at home there. And don't get me wrong: we partied a lot as well. But the next day we were back on the waterfront. It was a great time.''

The hours of intensive training finally paid off. At the age of 19, the young German was in the top 25 of the European Laser class with a fourth place at the Kieler Woche as proof of his hard work. But after studying Economics in Kiel, Heiko started his first job as a pharmaceutical wholesaler and sailing briefly disappeared to the background. Heiko limited himself only to local regattas. Until he got a call from an unknown man: "Do you want to go to the Paralympics?"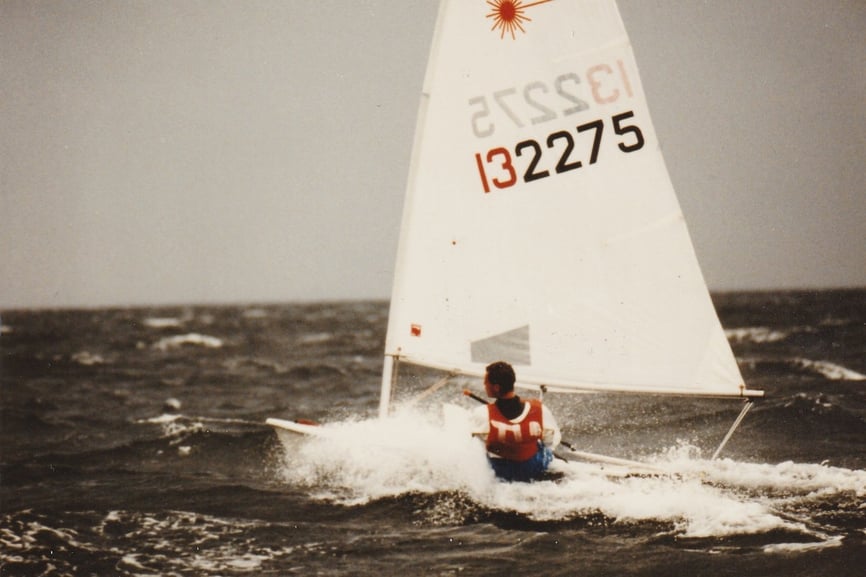 (PHOTO:The hours of intensive training finally paid off)

His born disability - his left arm ends 10 centimetres below the elbow - had never been an issue in his sailing career until then. "I was used to competing with other sailors without a disability. And with great success," says Heiko. "I never felt like I had to work harder than the rest. I saw my competitors on the water, struggling more with their equipment than I did.''

The first introduction to the disability sport did not stimulate the enthusiasm to participate in the Paralympics at all. ''The first regatta for disabled people was somewhere on a local lake nearby. Many old World War II veterans participated. The level was much lower than I was used to. This was not what I wanted," says Heiko. ''Yet the prospect of participating in the Sydney Games ultimately changed my mind. Everything would be taken care of. For free. I was not used to that at all.'' His no became a yes.

Uncomfortable, but with a lot of self-confidence Heiko participated in his first international regatta for disabled people in Cowes. With the level he was used to nationally in Germany, first place could not be missed. So he thought. "For the first time in my life, I didn't win by a mile. In fact, I finished third or fourth. I was completely devastated," says Heiko. "I was forced to change my mind and compete against very experienced and strong sailors." Fortunately, as a Paralympic campaign requires, Heiko had a coach at his disposal.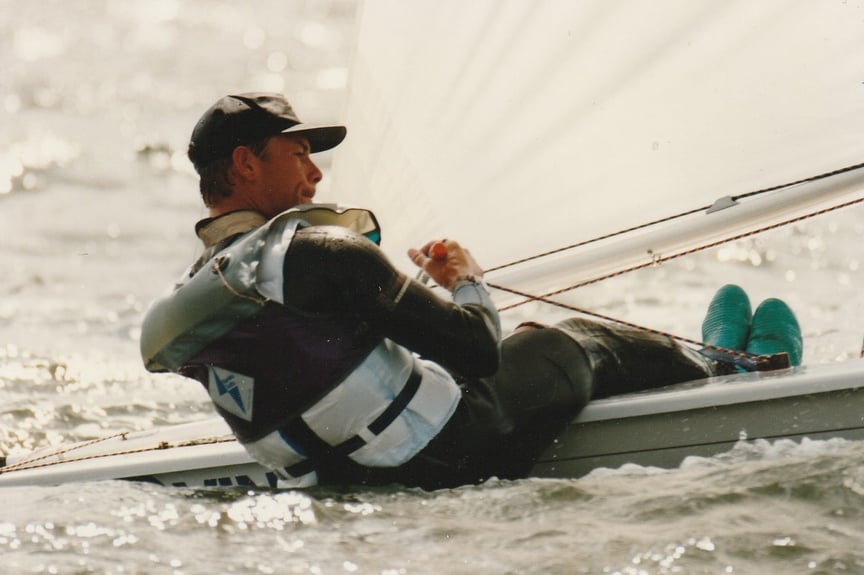 (PHOTO: ''I didn't win by a mile'')

Born in Berlin, raised in the former DDR and tried and tested by sailors like Jochum Sturman, a few features that characterizes Bernd Zirkelbach's working method. "He was someone different," says Heiko when asked about the coach. "We didn't talk about what was right. Our daily focus was on the things that went wrong. When you talk about if a glass is half full or empty - our glass was always hall empty. But guess what? He was one of the best coaches I could wish for. Very professional and he always exactly knew how to identify the problem. He knew me through and through and knew exactly how to trigger me.''

One personal quality definitely served Heiko throughout his sailing career: the ability to listen to others. "It's impossible to improve yourself without the input from others. I already noticed that in an early stage of my career. Bernd's plan was clear: you can become everything you want, but you need to stick to the rules.'' The contrast with the working method of the German federation couldn't be bigger. Whereas the hard hand and clear rules prevailed during the paralympic campaigns, continuous adaptation to sailors' wishes during the Olympics campaigns was more common. "I still don't know what's better, but I know one fact: we won the medals and they did not haha."




(PHOTO: Heiko with Golden Medal in Paralympics Sydney 2000)
And yes, medals were certainly won. Heiko won no less than 9 world championships. His participation in the 'fantastic games' of Sidney was immediately awarded a gold medal. Twelve years later, he almost repeated his success with a silver medal. Winning never got boring, according to Heiko. "To this day, I still analyse my mistakes to perfection after every trip. To keep getting better. That's what I learned from the early days,'' says Heiko. ''In the time of Bernd Zirkelbach I already trained like the America's Cup is doing know: learn from the data.''

The will to use data to improve personal sailing skills recently made Heiko decide to welcome MAX on board. An innovation he envisioned fifteen years ago. ''In the mid's 2000, when I was sailing all by myself, I already was looking for ways to connect analytics with wind measurements for smaller boats," says Heiko. And that's precisely the reason why I encourage the involvement of technology in sports. Not everybody can afford a coach, the perfect accommodation, the best equipment or analytic tools. But a tool like MAX allows everyone to keep improving.''

(VIDEO: Heiko sailing with MAX)

Heiko is not afraid that technology will take away the charm of sailing. ''After all, you still need to make the decision. Data doesn't tell you everything. Focus blind on your data, and you will end on the rocks. For me, it's an essential double-check to see if my intuition and observation regarding the overall conditions and the boat is right.'' To reinforce his opinion, Heiko cites the example of his much-improved start. "I trained with MAX intensively in preparation of some regattas last year. Everything to perfect my start. And it worked. During the races, I could trust my feelings even more. I've been sailing for 20 years, but I've never had such great starts.''

Despite his long sailing career, retirement is still a long way off. "The oldest sailor in Germany is 80. And he remains damn hard to beat at his old age. Luckily I still have some years ahead of me haha," says Heiko with a big smile on his face. His secret? "Keep improving yourself. Sailing is just a complicated sport. I've been sailing my whole life, hundreds of regattas, but in the eyes of my coach, I only sailed one perfect race. And that was eight years ago. It sounds rough, but it made me the person I am today: still hungry to become better and better.''
Sign up for our newsletter