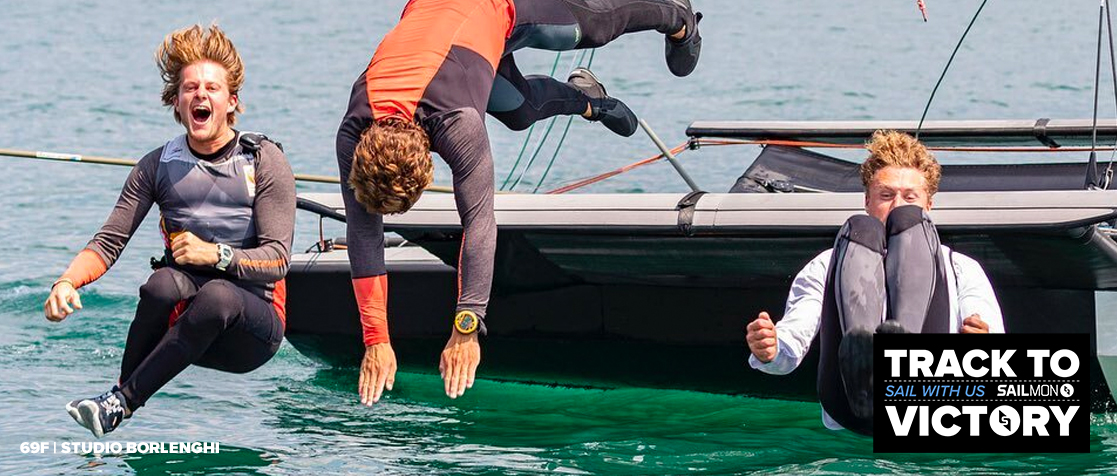 By Sailmon
22 February 2021
TRACK TO VICTORY: TEAM DUTCHSAIL - JANSSEN DE JONG
It was a huge disappointment for Team DutchSail - Janssen de Jong in September: the cancellation of the Youth's America's Cup 2021. The dream of participating in one of the biggest sailing competitions in the world suddenly fell to pieces for the talents of Coach Pieter-Jan Postma. As so often, Corona got in the way. However, there was still hope. The Liberty Bitcoin Youth Foiling World Cup, which will be held in Gaeta, Italy, from February 24 to March 12, has been designated as replacement. The intensive training courses and strict selection procedures continued unabated. Five months later, the dust has settled and three selected talents from Team DutchSail - Janssen de Jon are on the eve of the race of their lives.

Under the guidance of former Olympian Pieter-Jan Postma, nine talented Dutch sailors were appointed in June 2019 to compete for the coveted spot onboard during the Youth America's Cup in New Zealand. The necessary experience was gained during international competitions. With great success. They took home the 69F Revolution Cup on Lake Garda home after an impressive win. And also during the Persico Revolution Cup, the team gave off a good first impression. To the coach's satisfaction: "We have a team of sailors from different backgrounds, from the Olympic circuit and match racing and even some from the big boats. The cross-fertilization between the different disciplines is really cool to witness. It's fantastic to be able to facilitate this process and I am really impressed with the way the men and women are handling it. "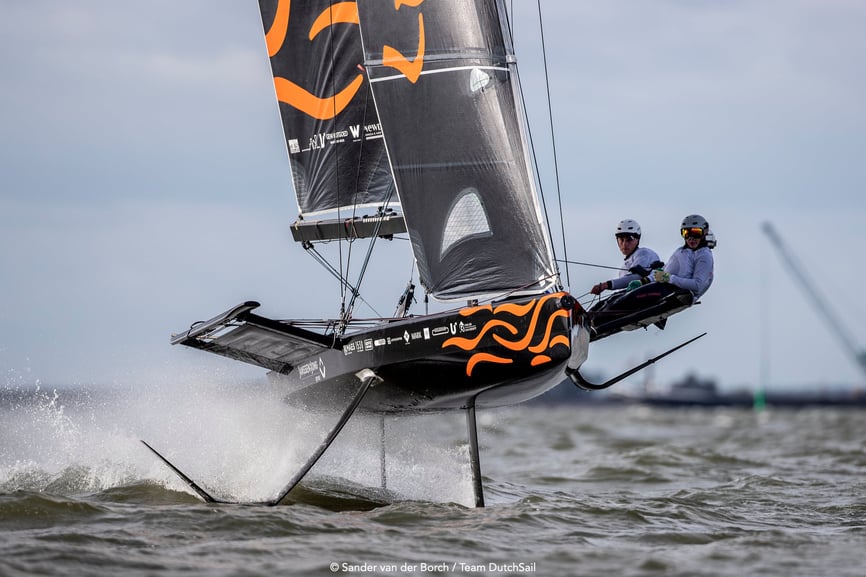 Team DutchSail is a unique collaboration of important Dutch sailing organizations and knowledge institutions supported by a broad base of companies led by main sponsor Janssen de Jong Groep. The team comes under the wings of DutchSail on behalf of the Netherlands, in collaboration with Sailing Holland, supported by the Watersportverbond and on registration of the KNZ & RV and KRZV De Maas.
Team DutchSail - Janssen de Jong took shape and nothing seemed to stand in the way of successful participation in the Youth America's Cup in New Zealand. Until an email from the organization in September unfortunately stated otherwise. Corona. Travel restrictions. Event cancelled. With a disappointed crew as a result: "Of course this was a major disappointment. Sailing the Youth America's Cup suddenly turned from a realistic dream into something completely unattainable. And although we are still in the middle of the selections, it already felt so close and definitely within reach. At the same time, we are sailors. We must and can adapt to changing circumstances at any time. As we will now. We're going to adjust our plan with our current team and hopefully with the support of the various partners. We work very well together and will continue to do so. Set new goals and train hard to obtain them. "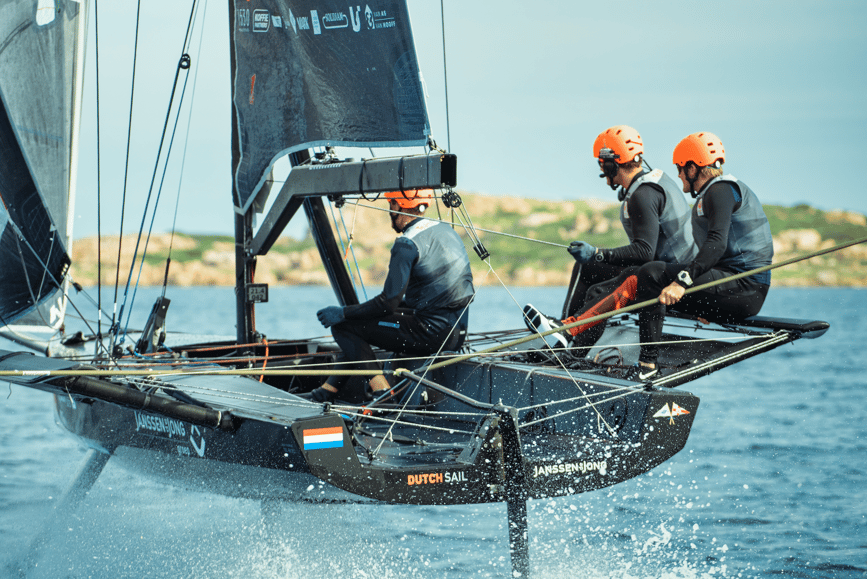 (Photo credits: Sander van der Borch / Team DutchSail)
Fortunately, that new goal was right around the corner. The Liberty Bitcoin Youth Foiling World Cup is the new battleground for young talent in Gaeta, Italy - with Team Dutchsail as Dutch representation. The tournament in the spectacular 69F class is already seen as an international replacement for the Youth America's Cup. The first start is on February 24. The finals are on March 10, 11 and 12.

With the final tournament in sight, Postma faced a new task: making a final choice in the selection procedure. After months of training in different line-ups, a decision had to be made as to who of the nine sailors were ultimately strong enough to represent the team and country. Postma: "I dare to say that it has been an intensive selection process, with a lot of amazing and talented people that I would have liked to have given a spot. If everyone stays fit, we will be sailing with Cas van Dongen on the wheel, Scipio Houtman on the main and Ismene Usman as flight controller on the boards. If necessary, we have a number of very strong sailors as back-up to jump in. "

Are the team and boat capable of sailing top speeds? The answer is: YES! The team previously sailed 34.9 knots (64.6 km / h) in the bay for Porto-Cervo in Italy. Sailor Lars van Stekelenborg, the helmsman at the time of the record, gave the following reaction afterwards: "Downwind we were already going 29-30 knots and then I saw a gust coming in the corner of my eye and I just thought: this is going to be slippery. I had to squeeze the rudder as hard as possible to keep steering well and then the boat just kept accelerating. With my one eye on the clock (the Sailmon MAX ed.) and the other in front of the boat, the data showed: 34; 34.7; 34.9. But then suddenly the rocks appear in front of you and you see a controlled rise at that speed to a downwind course."

And so an apotheosis of uncertain times approaches. Team Dutchsail's storey was a rollercoaster of disappointments and success. The young talents have shown resilience, willpower and flexibility. Basically, all characteristics you need to perform at the highest level. So there's hope - for great competitions, but certainly also for medal chances. Postma agrees: "I give us a good chance, we have standardized a lot, Cas, Scipio and Ismene are well attuned to each other and we will use the coming weeks in Gaeta for the finishing touch. We have been training here since the beginning of January to ensure that we are optimally prepared in a month's time to compete with the best sailors in the world. "

The big question, for now, is whether the high expectations will be met. Will the months of intensive training pay off? Has the right team been selected? What's the influence of the disappointment of the cancellation of the Youth's America's Cup? The answer to all those questions lies in Italy. In less than a month we will know more. Team DutchSail - Janssen de Jong on a different mission, but certainly with the same passion.

Sailmon will keep an eye on the developments of Team DutchSail during the Liberty Bitcoin Youth Foiling World Cup. Follow the team on our channels!

----------

Do you want to #SAILWITHUS? Check out our most popular products:

- MAX
- Element 10
- Model E4 Processor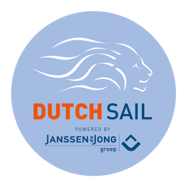 Sign up for our newsletter