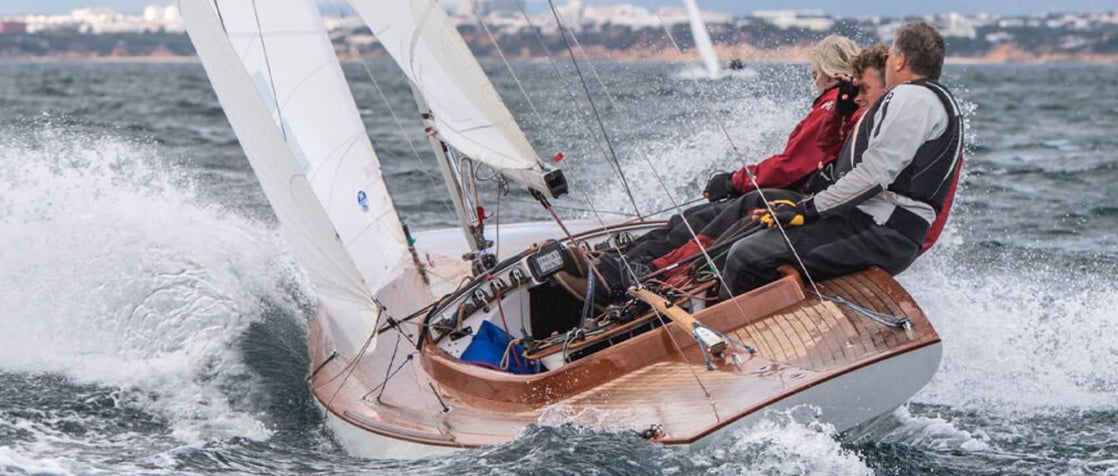 UPWIND SAILING: 3 WAYS TO RAISE YOUR WINDWARD GAME
Upwind sailing performance is one of the most critical skills you need to develop if you're to reach your full potential on the race course. If you can get around the windward mark in the top bunch, or even in the lead, then you're well set up for the rest of the race.
THE 3 KEY FACTORS OF UPWIND SAILING PERFORMANCE
There are three key elements that go into high-level upwind sailing performance and we'll go into each of them in turn.
The Elements required for Upwind Sailing Performance:
– Upwind Boat Speed
– Upwind Strategy
– Upwind Tactics
Fundamentally, upwind performance is a formula of maximising your speed and minimising the distance sailed. Boat Speed is what it says – going faster. Upwind Strategy is about shortening the distance sailed.
Upwind Tactics is how you interact with your rivals on the race course – trying to minimise damage to your own ideal boat speed and strategy whilst trying to make sure your closest opponents are suffering more than you! Let's go through these elements in more detail.
UPWIND BOAT SPEED: THE FASTEST WAY TO IMPROVE YOUR WINDWARD PERFORMANCE
Boat Speed is the most desirable weapon in your armoury but also the hardest to find. Racing – and lots of it – will really improve your boat speed. It's what most people do. But if you really want to accelerate your upwind boat speed, then team up with a tuning partner and go two-boat tuning [see other blog for more on this].
Racing is good for feedback to see how you're performing against the rest of the fleet, but it's not a good place for experimentation because we don't like giving away places on the race course. That's why training and two-boat tuning in particular is so critical to improving your boat speed. You can make mistakes and lots of them, meaning your learning curve is much steeper.
Here's a few things that Two-Boat Tuning will help you do:
– You'll learn more about the best technique, steering and sheeting through waves, gusts and lulls.
– You'll learn about how to fight for your lane and defend your position against rivals to leeward or windward of you.
– You can experiment with different rig settings – e.g. more or less mask rake, different rig tensions, more or less vang/ cunningham/ outhaul, daggerboard or centreboard further up or down. And so on. Try different configurations and combinations of setup. But don't change too much all at once, or else it becomes difficult to isolate the changes that are making your faster or slower.
– If you sail a hiking boat like an ILCA/ Laser, or an International Moth, your fitness and hiking ability will play a big part in your boatspeed. So get on that bike/ rowing machine/ hiking bench/ whatever will make your fitter and stronger!
UPWIND STRATEGY: THE KEY TO SAILING A SHORTER DISTANCE
Upwind Strategy is about analyzing the weather and the race course and coming up with a plan that will shorten your distance sailed. There are many factors to consider:
What land effects are there on the race course?
Is there consistently more wind on one side of the course than the other?
Is it more wavy one side of the course than the other?
What current or tidal effects do you need to consider and how might they change during the race?
We'll go into this in more detail another time, but with every factor you need to ask yourself, will this shorten my distance or time sailing up the course? Or is there a factor that will make the boat go faster? Here's a few examples:
MORE CURRENT ON ONE SIDE OF THE COURSE…
pushing you upwind, will get you to the top of the course faster than other boats who sail in the weaker current on the far side. Not only that, but the push of the current will increase your apparent wind, which powers up the boat more. So getting into the strongest current is a double win!
ADVERSE CURRENT…
on the other hand, is to be avoided at all costs. This is why you'll see boats short-tacking up the shore to sail in the shallowest water with the weakest current.
A PERSISTENT LAND EFFECT…
might create a permanent wind bend. Sail towards the inside of the bend and you'll be sailing a shorter distance compared with those boats on the outside of the wind bend. Think about it like an athletics track. Would you rather run around the inside lane or the outside lane?
MORE WAVES ON ONE SIDE OF THE COURSE…
than the other? Most likely your boat will sail faster in the flatter water where you can maintain top-end speed more easily rather than decelerating and accelerating all the time.
IS THE WIND FORECAST TO CHANGE?
Will it change direction? Will it increase or decrease during the race? If so, how do you want to set up the rig and the sails for the expected changes? This should also be part of your race strategy.
UPWIND TACTICS: WINNING THE BOAT-ON-BOAT BATTLE
Strategy defines the course you'd sail if there were no other boats on the race course. But it wouldn't be much of a race if you were the only boat on the start line! The thrill of racing is to compete and measure yourself against your friends and rivals on the same race course. This is where tactics comes in. Tactics describes the boat-on-boat battles that you have on a busy race course. Always keep your strategy uppermost in your mind, and use your tactical choices to help you achieve your strategy as best you can.
Let's say that there is a strong trend of more wind as well as a wind bend on the left-hand side of the course. If you can get a good start and you have really good boat speed, you'll stand a really good chance of holding your lane all the way out to the left hand layline and might be unchallenged. Tactics will hardly come into play. This is a game of pure boatspeed and strategy. Too easy!
BUT WHAT IF YOU'RE A BIT SLOW?
What if you get a bad start and are sitting in other boats' dirty air? That's going to be really slow if you stay there.
So now you have to compromise your 'go left' strategy and tack out into clear air. Keep going on port tack until there's a clear lane back to the left. Don't be tempted to go any further than you have to, just because there's even more clear air on the right of the course. Because if you did your strategy homework, you'll know that the right is just not going to pay.
Good tactics will enable you to work your way up the race course with only minimal damage to your boat speed and race strategy. Really tight boat-on-boat tactics – eg a close port v starboard tack incident, or tacking to leeward of a boat on starboard – these tactical situations require good knowledge of the Racing Rules. So make sure you understand the Rules as well as possible and use that knowledge to your advantage in close situations.
PUTTING IT ALL TOGETHER
Remember that formula again. Good Boatspeed x Good Strategy + Tactics = Great Upwind Performance. Work on all three of these elements. If you can score 8/10 or more in each of them then you'll have fantastic Upwind Performance!
Look out for a lot more 'go faster' content coming your way from Sailmon. We're keen to share more content on various topics that all add up to helping you sail better. Follow us on Facebook, Instagram or subscribe to our newsletter. Whatever you do, don't miss out on this valuable content! We're here to make you even better than you are today!

----

Check out this webinar!
'It's all about upwind performance' emphasizes the importance of boat speed, VMG, strategy and tactics during that crucial first leg. Olympic Gold Medallist and skipper and helmsman for the Japan SailGP Team Nathan Outteridge will share all his knowledge from his professional sailing career. Learn from the best, improve your sailing skills in the moments right after the gunshot and get ahead of the competition.

Check out the preview below or subscribe here for the full recordings

Sign up for our newsletter